Palo Alto Networks - PCNSA Voucher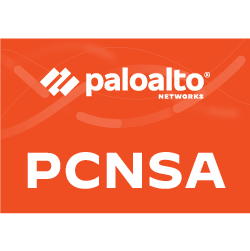 Description
| Quantity | Bulk Discount* |
| --- | --- |
| 1-24 | None |
| 25-49 | 15% |
| 50-74 | 20% |
| 75-100 | 25% |
| 100+ | 30% |
*Palo Alto Networks Education Services offers Bulk discounts for vouchers. Choose one exam type or multiple Palo Alto Networks exams to access the bulk pricing (example: 6 PCCET, 9 PCNSA, 10 PNCSE, equalling 25 vouchers at 15% off). The discount for the bulk pricing will be shown at checkout.
The Palo Alto Networks Certified Network Security Administrator (PCNSA) certifies that individuals have demonstrated knowledge of key features of Palo Alto Networks next-generation firewalls and can effectively deploy the firewalls to securely enable traffic based on who (users), what (applications), when (time-based policy), and how (content). Palo Alto Networks nextgeneration firewalls that are configured correctly enable administrators to prevent successful cyberattacks.
---
Standard
With standard delivery you will receive two emails within 3-4 hours of your purchase. The first email will be an order confirmation, and the second will include your voucher and registration information. Make sure to check your spam and junk folders.
With Inventory Management
With inventory management you will be given access to your voucher in a voucher management system. From there you can assign vouchers to email addresses and register them when needed. This option is recommended for institutions placing large orders. Click for more information.
---
All exam vouchers expire twelve (12) months after the date of purchase. You must schedule and take the applicable exam within twelve (12) months of purchase.
Exam vouchers are only valid for use at a Pearson VUE™ Authorized Test Center in the country you select or an online-proctored exam. To find your nearest test center, click here.